Kathy Robitaille Rainbow Woman
Walking the rainbow path of all nations, Kathy has begun to receive an understanding of the scope of her life work. She has undertaken the loving task of seeking her destiny, which takes her to the cultural foundations of each of the four sacred directions...
The southern direction inspires her to be creative with the elements of nature. To encompass the teaching to use all of what is given in diverse ways. With the teachings of the ancients ones, and the need to create beauty for herself and others, Kathy finds time to stitch and lace, using leather from the moose, deer, elk and buffalo. By creating drums and music for herself and friends, Kathy has found her way to sharing drum making and singing for groups in workshop settings.
This is only the beginning of Kathy's work...
Kathy travels with the teaching of the medicine wheel, sharing love and the healing arts for herself and humanity.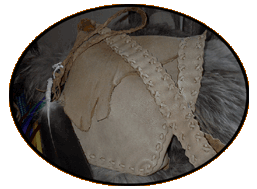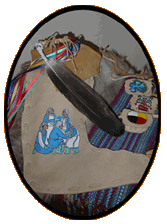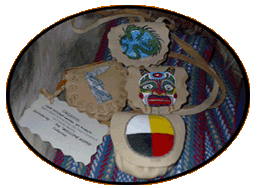 "To view a larger version of this beautiful work of Kathy just click on the image"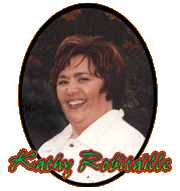 Her website is currently under construction.
For more info contact: k_robitaille@yahoo.com